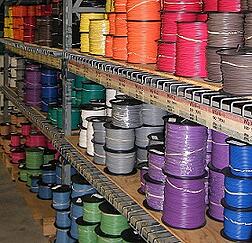 The automotive wiring you select for manufacturing and maintaining vehicles and equipment is an integral part to keeping electrical systems reliable. Not only is the type of wire you select important, like automotive gpt primary wire or automotive cross-link wire, but it's also important to choose the best automotive wire gauge size based on your application current draw, potential electrical resistance and voltage drop.
Voltage Drop & Automotive Wire Gauge Guide
Voltage drop is the amount of voltage lost over the length of the automotive wire or cable. Voltage drop changes as a function of the resistance of the wire and should be less than 2% if possible. If the drop is greater than 2%, efficiency of the equipment in the circuit is severely decreased and life of the equipment will be decreased. As automotive wire lengths get longer, electrical resistance builds up until it forces the voltage down below a usable level. At that point, up-sizing the wire gauge will restore the voltage to its intended level.
Voltage drop can be calculated using Ohm's Law: Voltage Drop = current in amperes x resistance in ohms.
For a more convenient calculation, voltage drop calculators and automotive wire gauge guides, like the chart shown below, can be helpful reference tools. This wire gauge guide shows the maximum run of wire that is recommended for 22 through 4/0 automotive wire gauges based on different current draw ratings.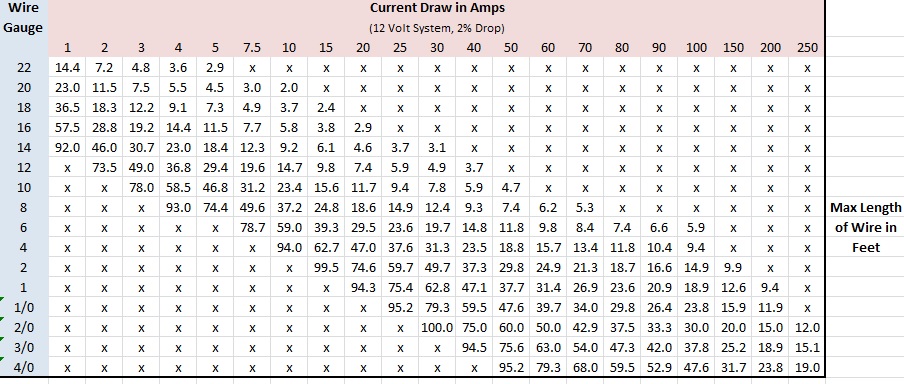 Disclaimer: Many factors can affect the performance of the application, such as voltage, temperature, load, etc. With so many variables, Waytek is providing this wire gauge guide as a general guideline only. Please refer to your design engineer for final decisions.