LONDON, Jan 12 (Reuters) - Copper prices slid to their lowest in more than five years on Monday as further weakness in oil kept commodity markets under pressure, investors worried about excess supplies and speculators kept up their selling.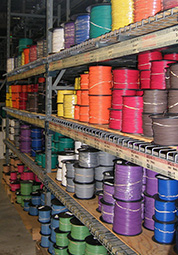 Three-month copper on the London Metal Exchange (LME) dropped to a session low of $5,966 a tonne, its weakest since October 2009, as sell orders kicked in at preset price levels, traders said.
Copper - which shed 14 percent in 2014 and is down nearly 5 percent already this year - closed 1 percent weaker at $6,015.50.
With market data showing an increase in bearish bets against copper, the metal was caught in a commodities downdraft spurred by oil, which dropped below $48 a barrel as Goldman Sachs slashed its short-term forecasts and Gulf producers showed no signs of cutting production.
"The weakness we are seeing is part of the ongoing deleveraging out of commodities. We have seen that in oil and also in the likes of iron ore and coal. It seems there is greater supply compared to demand and that is also the case for copper," said Robin Bhar, an analyst at Societe Generale.
Bhar said he sees $5,500 a tonne as a bottoming-out level for copper.
Analysts polled in October had expected the copper market surplus to rise to 350,000 tonnes this year from a forecast 94,300 tonnes in 2014.
Copper traders had been eyeing two big put-option trades at $6,000 and $5,500 per tonne, which they fear could accelerate the market's longest rout in years as prices sink to their lowest since 2010.
Hedge funds and money managers increased bearish bets in copper contracts during the week to Jan. 6, U.S. Commodity Futures Trading Commission (CFTC) data showed on Friday.
Aluminium closed down 0.4 percent at $1,810 a tonne.
"We note that reported inventories continue to fall, suggesting that World ex-China remains in deficit," said metals strategist Michael Widmer at Bank of America Merrill Lynch.
LME aluminium stocks MALSTX-TOTAL fell 9,775 tonnes on Monday.
"We expect the aluminium market in World ex-China to remain undersupplied also in 2015, suggesting that prices will remain supported," Widmer added in a note.
Zinc closed down 1.1 percent at $2,138 a tonne, lead gained 1.5 percent to $1,867, nickel ended down 2.6 percent at $15,100 a tonne and tin added 1.3 percent to $19,900.
Bahl, Harpreet. "Copper tumbles to lowest in more than 5 years, oil rout weighs." Reuters.com. January 12, 2015