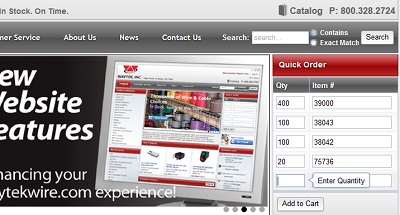 The online quick order tool was created for the busy purchasing and engineering professionals. It allows you to quickly enter purchase orders, or a list of items you want to order, by entering quantities and stock numbers into an online form. The quick order tool is located in the top right corner of the home page at www.waytekwire.com. There are 5 line item entries on the home page form, but if you need more, simply click the "Add to cart button" for a larger quick order form with 20 line item entries.
How to use the Quick Order Tool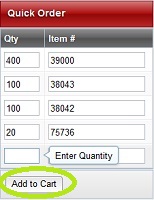 1. Type the quantity and part numbers you need to order into the fields provided. If you have more than 5 line items to enter, before entering any information in the fields, click the "Add to Cart" button for a larger quick order form with 20 line items
2. Once you've finished adding your items, Click the "Add to Cart" or "Add to Order" button.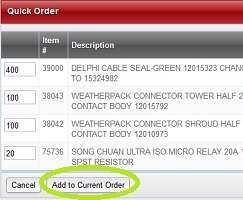 3. Review your order, then click the "Add to Current Order" button.
4. After clicking the "Add to Current Order" button, you will see your shopping cart in the upper right hand corner of your screen. Click on the shopping cart icon.

5. Review your cart. You can make changes to quantities, line items and more. If everything looks good, click the "Proceed with Checkout" button.
You will be directed to login to your account or register for an account if you don't already have one. Registering is a simple and secure process. It takes about 1 minute to complete, and once registered, you will be able to track your order status and history, save favorite items into lists and view customized account information.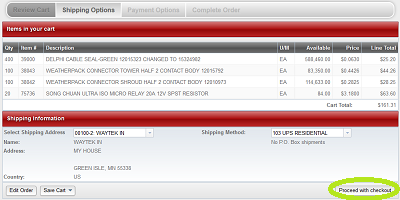 6. After logging-in or registering for an account, you can whiz through the check-out process. Upon placing your order, you will receive an order confirmation email.
If you further questions on how to use the quick order tool, or any other questions, comments or suggestions about waytekwire.com, email us or call 800.328.2724.