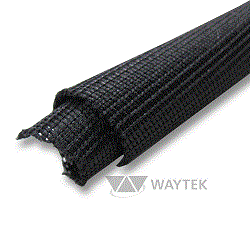 Waytek now offers Nu-Guard PET self-closing braided sleeving to help save labor time and costs in the production of wire harnesses and in future maintenance projects.
Nu-Guard self-closing braided sleeving is light-weight and made of a black PET mono-filament and a textured multi-filament combination. It is knitted with a rugged, but smooth texture and appearance. The knitted construction provides good drainage, while maintaining superior abrasion resistance.
Nu-Guard is a cylindrical shape with an overlap self-closing sleeve. It allows you to wrap the sleeving around your wire harness, and is ideal for re-working components without disconnecting them. It ensures a protection of wires with a 90 degree minimum overlap. Wrap Nu-Guard self-closing sleeving directly around wires, cable assemblies and hoses to protect from cutting, abrasion and chafing. For more information on Nu-Guard or any other braided sleeving options Waytek carries, call 800.328.2724.