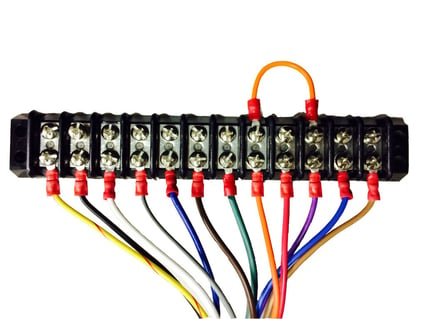 When assembling a circuit, it's easy to forget that there's far more to it than just wires and solder. Terminal blocks are a useful, and often crucial component for many automotive electrical wiring needs. But what are their functions, and what do you need to know about them?
What Are Terminal Blocks?

Terminal blocks, also sometimes called "terminal strips," are essentially a form of electrical interchange that distributes power around your fleet vehicles. Used extensively in a variety applications to provide quick, safe, reliable, and economical circuit connections. Just like a trucker takes a cloverleaf to get off one interstate and on to the next one, a terminal block serves as a sort of routing tool for automotive electrical purposes, both within circuits and connecting different circuits to each other.

As a rule, you connect a wire to a terminal block either by stripping it of insulation, wrapping it around a screw, and then securing the screw in the terminal or by soldering a connector to the wire and attaching it to the terminal. Generally, in automotive electric you see the latter, although screw connections may still be present in some non-essential devices. Terminal blocks are designed for quick and simple connections that can be quickly done and easily fixed. Applications having to endure high vibration can make use of snap spade terminals to ensure a secure connection.

Generally, terminal blocks have two purposes, to connect different circuits together and to provide an electrical ground for a circuit. Grounding, of course, provides a safe route for a circuit to terminate, reducing the risk of short circuits within your system or serious injury to members of your team. While terminal blocks are an excellent method for the time-consuming tasks of connecting circuits, your fleet team may need to use different techniques for circuits that require more mutual interaction.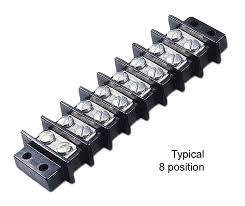 Why Make Use of Terminal Blocks?

The main advantage of a terminal block is cost. Compared to other types of connectors, a terminal block is relatively cheap. It can also be a good time saver, as there is no soldering required to make a connection. Finally, terminal blocks allow for quick and easy repair, and allow for neater circuitry layout when finished.

When choosing terminal blocks, it's important to consult with your team about their needs and concerns. Most terminal blocks, especially for fleets, have specific purposes they're best used for, and similarly, they're not the answer in all electrical situations. But, for quick, efficient connections and power distribution, terminal blocks are handy to have. For the best in terminal blocks and circuit connections, view our terminals and connectors.