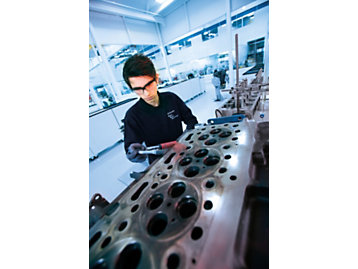 Not long after U.S. engine manufacturers finished patting themselves on the back for a job well done meeting Tier 4/Stage IV emissions regulations in 2015, those in the know naturally started asking "what's next?". Since the 1990's, there have been a new set of emissions standards passed every few years, to which manufacturers must adapt their product lines.
Looking to Europe usually gives us an idea of what the next generation of requirements can be expected to look like, as the European Union (E.U.) usually leads the charge on these regulations. In 2014, they proposed Stage V emissions standards for off-road engines, which require engines to further reduce exhaust particle matter (PM) by 2019. Earlier this month, at the Bauma 2016 show in Munich, U.S. manufacturer Cummins unveiled a new generation of Stage V compliant engines, so it seems likely that other manufacturers will follow suit.
While the EPA has not proposed any equivalent Tier 5 standards for the U.S. as of yet, many industry experts seem to think it is simply a matter of time, however the deadlines may fall later than those for Stage V, suggests the publication Equipment World.
What's the difference between "Stages" & "Tiers"? Not much, Stages IV/V and Tiers 4/5 are basically just the European and American names given (respectively) for the latest stages of emissions regulations implemented. The U.S. and E.U. regulations tend to mimic each other, which helps simplify and streamline production operations in an increasingly global marketplace.
Stage IV emissions standards reduced both NO× and PM counts to near zero levels; diesel engines are the cleanest they have ever been.
So what changes can Stage V, and likely the future Tier 5, be expected to bring? According to Equipment World Magazine, it's been reported that Stage V is not difficult to achieve; most engine OEMs who exhibited these engines at Bauma 2016 simply adjusted their engine operating parameters and/or diesel particulate filters and oxidation catalysts to hit the targets. Several industry leaders have described Stage V as "evolution, not revolution".
One critical thing to note is that each tier of emissions regulations means smaller, more efficient engines which burn at higher temperatures, requiring high-heat components. Here are some of our top picks for components rated to withstand high temperatures:
This 100% woven fiberglass sleeving is UL recognized to have a VW-I flame retardant rating, making it ideal for use on hydraulic lines and electrical insulation. This ultra high-temp. fiberglass sleeving is rated to withstand up to 1200°F (648°C).
To speed installation, this versatile cable tie features a strap which can be inserted into the head in either direction. This component has a flammability rating of UL 94-HB and can withstand extreme temperatures between -40°F (-40°C) to 221°F (105°C).
Constructed from nickel-plated steel, this non-insulated 3M terminal is designed for easy wire insertion and is rated to withstand extreme high heats, up to 900°F (482°C) continuous duty.
A web of ever changing rules and standards can feel daunting, but proper planning and the right components are the key to bridging the gap. To learn more about how Waytek is Wired to Serve™ manufacturers of on and off-highway equipment, contact us.
p.s. While you're here, check out some of our top-selling components for engine manufacturers: