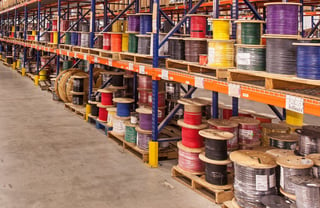 In manufacturing, it's important to have everything you need on hand and ready to go. But it's also important to strike a balance between products you need in bulk and products you need just-in-time. Automotive wire needs to be in the former category, though, for a number of reasons.

Lower Costs
Automotive wire is likely one of the most commonly used components in 12-volt manufacturing, and as a result it's always the product you're looking for the best deal on. Buying in bulk allows you to get the best possible price for the most high quality wire, driving down overall costs and allowing you to secure a lot of a quality product at once for your factory. Over time, you'll be able to reduce your wire budget without compromising quality or taking shortcuts, and focus your savings on other aspects of purchasing.
Continuous Manufacturing
Nothing drives a production manager or a purchasing department more up the wall than running out of a crucial component right when you need to turn around units. It means expensive rush orders, constant tracking of shipping, idle assembly lines and overtime if the truck will show up at the loading dock after work hours. Buying in bulk means that you'll always have commonly needed wire in stock at the factory, and that your factory can keep turning out products night and day. It will also help limit any forced pauses in manufacturing by keeping everything you need on the shelves, and limit the number of expensive rush orders you have to file. That means humming assembly lines, and less stress in the purchasing department.
Smoother Purchasing
Operating a purchasing department can often leave you chasing a dozen purchase orders at once. Bulk wire purchases allow you to check a common request off your list while keeping the product in stock, so you can focus on the more difficult purchase orders you need to research and fill. In fact, often your wire distributor can help you track down the more unusual parts you need to order, and can add that to your bulk purchasing, driving down costs even further.
Streamlined Product Development
Developing new products is a complicated process in its own right, and it's one that can quickly be frustrated by a lack of materials to develop with. By buying wire in bulk, you'll guarantee the product team has everything they need on hand while freeing them up to experiment with new types of products and take bolder steps in product development. If your team knows a new length of wire is just a visit to the supply department away, they'll engineer better products.
A Better Distributor Relationship
Often, a strong relationship with your distributor means simpler pricing, same-day shipping, and other useful perks. If you work with a distributor and lock down a regular bulk order of wire, you'll start building a relationship with that company and can reach out to them with other needs as they occur. If a last minute rush requirement comes up, you'll have a distributor you trust to deliver the parts you need.
If you work in a busy manufacturing plant, it's important to have the right components on hand to ensure that there are no gaps in the product development or production process. To start buying your wire in bulk, see what our wire and cable products can do for your business.