Deutsch connectors are in high demand and can be difficult to source due to extended manufacturer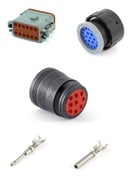 lead times. Widely in use in trucks, construction equipment, agricultural equipment, and many types of mobile equipment, Deutsch connectors have become integral to many production lines.
Waytek has partnered with Amphenol Sine Systems and Aptiv to identify several Deutsch-compatible connectors and keep them in stock and ready to ship with reduced lead times. Our partners have thoroughly tested and continuously improved these Deutsch-compatible connectors to ensure they are reliable replacements.