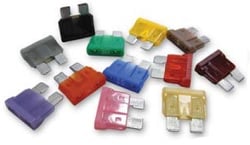 ATO blade fuses have been an original equipment circuit protection standard in the automotive, truck industry for many years. Recently, Littelfuse upgraded their ATO fuses being made from polycarbonate, polyethersulfone, polysulfone to ATOF fuses made with nylon material. The change in material improves the durability of the fuse and ease of use for original equipment manufacturers and maintenance professionals.
Nylon has an excellent chemical and heat resistance, so the new ATOF fuses are more durable in harsh under-hood environments. They are resistant hydrocarbons, aromatics, aliphatic solvents, automotive oils & fuels, and refrigerants. The nylon material has a higher temperature rating of 446°F (230°C), compared to polycarbonate 302°F (150°C), polyethersulfone 424°F (218°C) and polysulfone 370°F (188°C). The nylon housing reflects light differently than polyethersulfone, polysulfone and polycarbonate, which results in significantly improved readability making maintenance and installation faster and easier.
The metal portion of the ATO fuse has not changed, so electrical performance and metal characteristics will not change. Form, fit, function and UL ratings of the ATOF remain the same as ATO fuses, so they can be used in any standard ATO/ATC fuse block or fuse holder.