Challenges in the automotive wire harness industry – including extended wait times for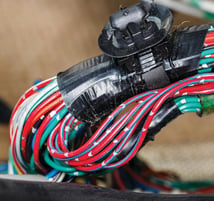 established, well-known components – are pushing the market towards new products and alternatives. Other challenges include weight and space constraints, environmental regulations, and system requirements that are growing more complex.
There are thousands of varieties of automotive wire harnesses. In some modern vehicles you will find as many as 40 different harnesses, 700 connectors and 3,000 or more wires. More variation comes into play with wire harnesses that go into heavy-duty vehicles, construction and agricultural equipment, and other off-road machines.
In this article you'll learn about:
What makes heavy-duty vehicles unique when it comes to wiring and connectors

The challenge of component availability—and ways to get around it

The importance of maintaining wire strength in signal applications

The decline of pull-to-seat connectors, solder, and tin-based components

Product sourcing tips
Click here to read our "Connector Trends and Challenges in the Automotive Wire Harness Industry" article at ConnectorSupplier.com