Electrical terminal blocks provide a convenient way to connect individual electrical wires. Also known as terminal boards or terminal strips, terminal blocks are available in several electrical terminal configurations. The following terminal blocks offer different advantages depending upon your needs.
Double row term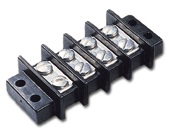 inal blocks are used for general purpose electronic or electrical work. They help eliminate splicing and can conserve panel space when used to construct high density circuitry. The exact dimensions of the terminal block will vary depending on the number of positions, amps, and voltage. Designed in numerous combinations of amp and volt configurations, ours are available in 20, 30, & 75 amp models with 150, 300, or 600 volt styles and can offer anywhere from 2 to 12 positions.
Our standard single row terminal strips are rated up to 600 volts and available in 20, 27, or 45 amp models. They can withstand temperatures ranging from 185° to 86° Fahrenheit (or 85° to 30° Celsius). Sold with and without a wire guard, typical wire range will vary and can be anywhere from 10-20 depending on the model you choose.
Our 7-Terminal Junction Box is a stud-type junction block that provides a convenient way to connect wires between trailer and towing vehicles. It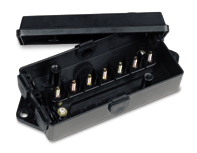 has a black ABS Plastic cover and base includes five open rubber grommets, five closed rubber grommets, and #10/32 threaded studs that are spaced ¾ " apart. Though equipped with barriers to prevent shorting and mounting hardware, nuts and washers are not included. Its glass-filled nylon construction enables it to withstand a maximum temperature of 200° Fahrenheit (or 105° Celsius).
Whether you want to conserve panel space, customize your terminal block, or connect wires between two vehicles, there is a block that will offer the ideal solution for your electrical terminal needs.