Both halogen and xenon headlights are popular light options in the automotive, truck and heavy equipment world. They both have very long lives, longer than incandescent miniature bulbs, so what are their differences and how do you decide which type to use?
Halogen Headlamps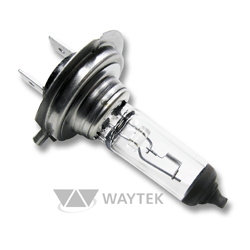 Halogen headlights have a lifetime of about 1,000 hours under normal conditions. They create a very bright illumination and they come in many different base sizes, so they are flexible in any replacement application. When a halogen headlamp burns out, the replacement costs are generally very low. Although the halogen light bulbs usually come to the end of their lifetime due to their somewhat inefficient design and construction. They produce very high temperatures, argon and nitrogen gasses, while generating a radiating light which wastes energy. Halogen light bulbs are also sensitive to various substances. For instance, the salt and skin oil in hands results in damages to the glass bulb. Toughing the bulb can result in early burn-out because the glass won't be able to withstand the high temperature inside. It is mandatory to avoid touching the glass of the bulb when replacing.
Xenon HID Headlamps

Xenon headlights are known to be more efficient than halogen lights because of amount of light they generate. They are officially called high-intensity discharge headlamps. Efficiency is the number one thought when considering an HID Headlamp over a Halogen. The xenon headlight uses less energy, reduced fuel consumption and less CO2 emissions. Additionally, the amount of power saved by the xenon efficiency can be used for a variety of other electronic devices. They have a long lifetime – about 2,000 hours, which is double the life of halogen bulbs. Some consider the illumination of xenon headlights a setback because they are known to produce a glare for other drivers on the road. Xenon lights are also more expensive than halogen lights, however they last double the time, making for lower maintenance or replacement costs.