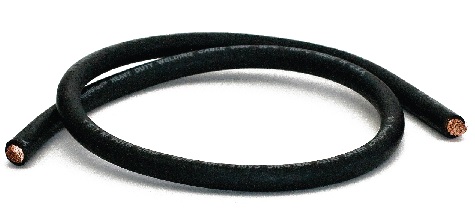 Welding cable was originally designed and intended for connecting welding equipment and grounds. It is a high voltage cable built for flexibility so the welder doesn't have to drag a heavy, stiff cable while working. The transportation, vehicle and heavy equipment industries have recognized the benefits of welding cable's high flexibility, high voltage, and high heat capabilities and are using it as an alternative to battery cable.
Vehicle and equipment manufacturers are designing with space, weight and fuel savings in mind. Compartments and components are getting smaller and lighter. Welding cable is very easy to work with in small spaces because it is constructed with highly flexible Class K stranding of SAE compliant 30 Ga. copper conductors, and high grade RoHS compliant EPDM insulation. Its extreme flexibility allows tighter diameter bends, so you are able to do more with less cable, making it a cost effective choice. Welding cable offers a more efficient and cost effective method for routing wires. The EPDM jacket resists cuts, tears, abrasion, grease, oil, water and flame for optimal durability. Welding cable withstands the extreme temperatures up to 105°C and remains flexible in -50°C. Capable of high-power applications up to 600 volts.
Learn more about welding cable.