The use of cable ties is common in automotive electrical applications for bundling and securing wiring,

cable, wire harness conductors, hoses, and more. Cable ties go by many different names including zip ties, nylon ties, and cable wraps, but they all refer to the same thing: fasteners that bundle wires and cables together to help keep them organized and protected from damage.
Here are a few things to consider when choosing cable ties for automotive use.
Materials
Automotive cable ties are typically made of Nylon, stainless steel, or Velcro. Nylon is the most widely used material. In cable ties for automotive use, the nylon is often blended with other materials for enhanced resistance to heat, UV rays and chemicals.
Generally, stainless steel cable ties can withstand higher temperatures and are more resistant to radiation, vibration, and flame. Steel also presents little risk of residue compared to nylon.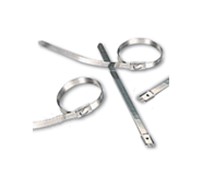 While some popular cable ties are fastened via Velcro, most automotive cable ties make use of pull-through closure which is more robust and reliable.
Right: An example of stainless steel pull through cable ties.
Size and Tensile Strength
Cable ties for automotive use range in length from 4 inches to more than 15 inches. Having a long or wide cable tie, however, doesn't necessarily indicate its strength. Cable ties are rated in terms of loop tensile strength (LTS). LTS corresponds to the maximum amount of force that can be exerted on a cable tie's locking mechanism once it has been secured. Cable ties for automotive use have LTS ratings ranging from 18 to 250 lbs.
Bundle Diameter
The term "maximum diameter" when looking at cable tie specifications refers to the largest diameter of the bundle to be tied or restrained. Make sure the cable tie you select is long enough to wrap around the circumference of your bundle, leaving enough loose end on the tie so it can be pulled all the way through its locking device.
Standard Cable Ties
Standard nylon cable ties that meet UL requirements and are made of nylon 6/6 material are good for general automotive use. They can secure multiple single-strand wire harnesses requiring a tensile strength up to 60 lbs. Standard cable ties typically have a zip-tie locking mechanism that self-locks. They can be easily drawn and secured within seconds.
Heavy-Duty Cable Ties
Heavy duty cable ties in the 50-175 lb. range can be used to secure heavier-gauge brake, trailer, and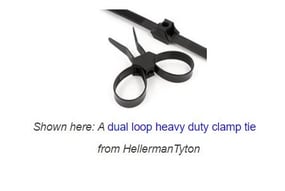 battery cables that are likely to be subjected to harsh environments and vibration.
Specialized Cable Ties
Automotive cable ties are available in specialized versions that offer many options in terms of material, size, and operational features. Examples include: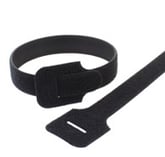 Shown above: A releasable Ty-Grip™Fastener from Thomas & Betts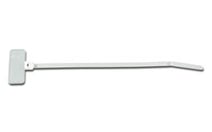 Shown above: An Identification Tie from HellermannTyton
Color-Coding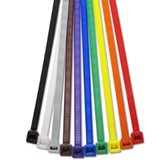 Some cable ties are available in a wide range of colors, enabling you to color-code your bundles for easy identification,
Temperature and Environmental Factors
Keep in mind the operating conditions of your intended application. Will the tie be exposed to sun and rain? Will it be placed in extreme cold or heat that could affect its durability over time? Will it be exposed to water or chemicals?
Heat stabilized nylon cable ties are ideal for high-heat applications and provide stable properties in harsh environments. For even more stability against heat and cold, consider using stainless steel cable ties.
If your cable ties will be exposed to sunlight, make sure they are rated as UV resistant. If extreme heat is a factor, cable ties with a flammability rating of UL94 are quite reliable, to the point that they won't melt even when exposed to an open flame.
Stay Tab Feature
To temporarily hold a bundle in place, Advanced Cable Ties offers ties with a "stay tab" near the tail. The tab maintains a closed loop position without locking the cable tie, enabling you to complete a task without having to destroy or replace the tie afterward. When done, you can either tighten it into a final locked position or release the tab and remove the cable tie.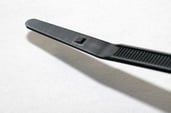 Right: A close-up showing a "stay tab" feature near the end of an ACT standard cable tie, allowing it to be loosely secured around a bundle and then tightened or released later.
Cable Tie Guns
If using cable ties is part of your daily routine, cable tie guns can make the process easier, allowing you to pre-set to a desired pull tension then squeeze the handle until the cable tie is precisely tightened and cut. Cable tie guns are especially helpful if you are using the same size and strength of cable tie repeatedly.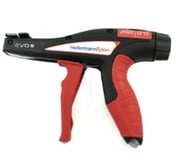 Right: An EVO®9 Cable Tie Gun from HellermannTyton featuring 33 different tension settings
Tying It All Up
Once you have determined your length, material, environmental factors, and any mounting requirements, you're ready to select your cable ties.
For a wide selection of automotive cable ties, mounting and fastening systems, and tools, see the Cable Ties section of the Waytek website.