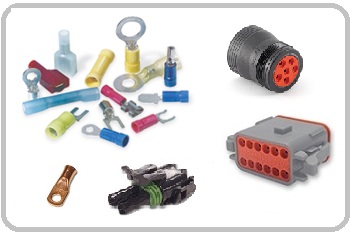 There are thousands of electrical terminal and connector options for automotive and heavy equipment applications. Making a sound electrical connection is one of the most important parts of ensuring your electrical system runs smoothly and your equipment stays out of the shop. Labor time and money are saved by making good electrical terminal and connector decisions. Here are the main factors to keep in mind when selecting the best electrical terminal or connector for your project.
YOUR APPLICATION:
In what part of the equipment or vehicle will this connector be located? What do you need it to do? Will you be making a single wire-to-wire crimp connection, or will you need a multi-pin connector? You might be looking for a specific plug or receptacle end of a multi-pin connector system to mate with a connector on another component such as GPS, on-board computers or aftermarket battery management devices. Deutsch or Amphenol connectors and Metri-Pack Connectors are commonly used as the input and output connectors on many aftermarket electrical devices and components.
ENVIRONMENTAL FACTORS:
The environment in which the vehicle or equipment will be used or stored is one of the most important factors in making your electrical terminal or connector decision. If the environment is susceptible to extreme high and low temperatures, or excessive moisture and debris, such as construction or marine equipment, you will want to choose a sealed connector system like Delphi Weather-pack Connectors.
WIRE GAUGE & COMPONENT SIZING:
You will need to know the wire gauge size to which you are making a connection. If you are connecting a wire to a stud, like in battery connections, you will also need to know the stud size. Eyelets, battery lugs, ring terminals and spade terminals are all sized by wire gauge and stud size.
SPACE:
Some connections in vehicles, trucks and mobile equipment are made in small compartments where space is tight. You will want to keep in mind the space your electrical terminals and connectors will need. Molex® makes the Mizi-P25 multi-pin connector system with a very small 2.5mm pitch, which can fit in very tight compartments.
Taking the time to assess these four factors will help ensure you choose a connector that will serve you well for years to come. To find a part that meets your requirements, look to a distributor with a wide selection. See our full selection of terminals and connectors.