Proper crimping is paramount, but getting the right crimp requires the right tool. While this may sound simple enough, there are several considerations when selecting from the myriad of crimping tools on the market-- here are a few of the most important:
Volume
One factor that will help determine the grade of tools needed is the volume of your operation. While high-volume operations will generally want to turn to automatic tooling, such as a hydraulic or pneumatic press, many production lines still utilize hand-crimping.
Basic field-repair quality crimpers can easily be used by shops that do lower volumes of crimping and have simpler needs. For shops like this, multi-purpose models with swappable dies, such as the Master Mobile Crimp Tool Kit by Waytek, eliminate multiple tools, and affordable pricing makes them an economical choice. Some other good choices in this category include the All-in-One Crimping Tool by Eclipse Tools, the TH-440 Hand Crimping Tool by 3M, and the Multi-Purpose Electrician's Tool by Klein Tools.
Outfits with medium output but longer production runs will want to seek out models that are more ergonomic and rugged. Many will also want to consider crimpers with ratchets in place for enhanced quality control, as these ensure the operator goes through the full range of motion needed for a proper crimp, such as the ServiceGrade Hand Crimper Tool by Molex.
Wire Gauge and Crimp Profile
Wire gauge is a top consideration, as crimping tools are sized according to the wire gauge they can accept, using American Wire Gauge (AWG).
Just as important is the terminal being crimped, as each type of terminal has a specific crimp profile, requiring a certain die. Although many trained technicians can often identify the correct die by eyeballing the shape of the jaw, most terminal manufacturers specify what type of crimper needs to be used, such as this data sheet for 3M Scotchlok Female Disconnects.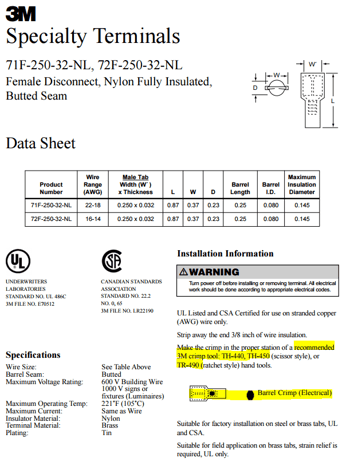 Here is a reference chart outlining a few of the most common crimp profiles for different terminal types.
Warranty and Certification Requirements
It is important to check the warranty requirements of your terminal. While many brands will just simply dictate the specs of the crimper required, some warranties may go so far as to dictate that only their brand be used. Failure to abide by these mandates may void your warranty, so it pays to be sure you are following their guidelines.
Ensuring you are in compliance with manufacturer guidelines is also an important aspect of qualifying for common quality certifications such as UL, SAE or MIL. These certifications can be complex and subject to change, so we recommend reviewing data sheets thoroughly.
As you can see, there's a surprising amount of variety in crimping and often the solution will be to have a few sets of crimpers handy to perform different jobs. To get the gear you need for your perfect crimp, view our crimping tools and wire and cable products.
And while you're here, take a peek at some of our top-selling crimping products:
---
RELATED POSTS:
Wire Crimping Techniques & Tools by Molex
The Dos and Don'ts of Choosing Wire Terminals and Connectors