The automotive, truck and heavy equipment industries are all addressing the problem of fuel consumption and environmental emissions. Reducing the weight of vehicles, trucks and equipment is one of the primary means by which fuel consumption is lowered. Even modest vehicle weight reduction has a significant impact on emissions reduction. Reducing the weight of a vehicle by a mere 110lbs increases fuel economy by up to 2%.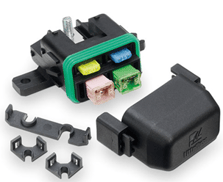 Any opportunity for space and weight savings can benefit the operator's bottom line and the environment. Even space saving electrical components can help reduce the weight of your vehicles, trucks and mobile equipment. There have been an increasing amount of space and weight saving power distribution modules to help you get more fuses and circuit breakers into a compact space.
One of the latest power distribution modules designed for space saving is the new 2+2 fuse holder from Littelfuse. It provides more flexibility in add on auxiliary circuits. This compact waterproof device can hold different fuse types in one small component. It houses two JCASE® cartridge fuses and two MINI® blade fuses. The 2+2 fuse holder is gasket sealed to protect fuses from moisture and contamination. Fuses are internally bussed to a single main power stud; one input powers four fused circuits.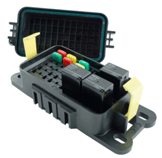 Littelfuse also makes the 18-Way and 60-Way Mini Power Distribution Modules (PDMs) which allow for mini fuse and other ISO 280 footprint component add-ons and system growth, in a compact panel. Designed to withstand harsh environments with a rugged thermoplastic body and cover with a sealed gasket.