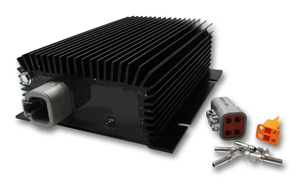 When the voltage required to power your motor is much higher than the voltage required to power your auxiliary devices, the electrical system is referred to as dual voltage. If not properly supported, dual voltage systems can suffer from excessive current overload or rapid battery discharge, which significantly reduces the life of batteries. DC to DC Converters take high voltage power from battery packs and provide regulated and clean 12 volt output power for standard auxiliary devices and accessories.
A very common instance of dual voltage systems is electric utility vehicles and mobile equipment. They are made with 48 volt or higher traction packs in order to power the motor, however, their auxiliary systems, like head lights, radios, communication accessories, computers, wipers and tailgates only require 12 volt power. The 48 volt motor power needs to be converted down to 12 volt power in order to supply the accessories safely. DC to DC converters provide steady energy for 12 volt accessories from battery systems where nominal voltage is much higher and make the output electrically isolated from the input.
DC Converters are designed to withstand reverse battery, over-temperature, over-current, and short circuiting without damage to the unit.They also offer protection from under-voltage and over-voltage on the input. If the input is too high or too low, the converter will shut off to protect itself. Under-voltage protection incorporates a delay so that momentary battery sags do not turn off the converter, and the operating temperature is constantly monitored. If the unit becomes too hot, it will fold back to protect itself. The converter uses current-mode control topology. This topology allows for cycle-by-cycle current limiting during short circuits or overloads. Converters are small, light, silent, and have no moving parts to wear-out, making them very low maintenance.