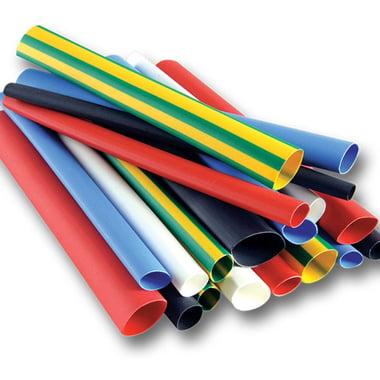 Heat shrink is one of the most useful products in many low voltage applications. It repairs insulation, it offers protection against abrasion and moisture intrusion for wires, it provides needed support and strain relief and generally it allows for more design flexibility and capability for any automotive electrical use. But picking heat shrink can be a difficult task if you're not familiar with it. How do you select the right heat shrink for the job?

Shrink ratio
The first thing to keep in mind when picking a shrink tubing is what your shrink ratio requirements are. The shrink ratio is the difference between the tubing's expanded size to its recovered size (shrunk size). The desired ratio is usually going to be dictated by the size and shape of what you're trying to cover or protect with the tubing. While 2:1 is the most common type of heat shrink, Waytek also offers a variety of 3:1 and 4:1 ratio heat shrinks tubing. Keep in mind, heat shrink is designed to shrink radially, with a minimum of longitudinal shrinking.
Material Types
An important consideration to keep in mind is what protective properties are needed. Depending on what material the shrink tubing is made out of, it can offer a wide range of chemical resistance, as well as physical protection from cuts and abrasion. The product data sheet will usually outline these properties, so you can match them up with your application's requirements.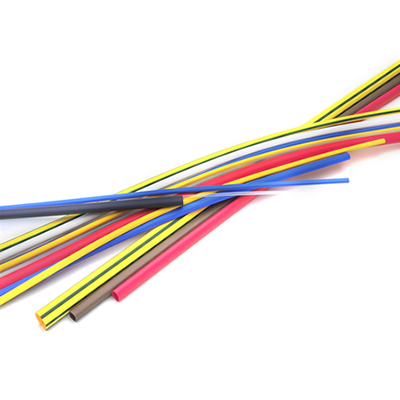 Dual Wall vs. Single Wall
Another important consideration to keep in mind when choosing a heat shrink is whether your application needs to have extra protection against moisture. Heat shrink usually offers decent moisture protection due to creating a physical seal against your wire, but it's not necessarily going to be a perfect seal. If extra moisture proofing is desired, look for dual wall heat shrink. Dual wall heat shrink offers an outer jacket of a heat shrinkable material, plus an inner adhesive lining, that's designed to melt and flow around the shrink temperature, and completely encapsulate the wire, creating a moisture-resistant seal.
Temperature Requirements
When selecting heat shrink, there are two temperature ratings to consider. The first is the shrink temperature. This is the temperature where the crosslinked structure of the tubing will begin to relax and shrink into its recovered size. The lower this temperature, the easier it is to make the tubing shrink, and the less chance there is to damage what you're trying to protect, by applying excessive heat.
The second temperature rating to look for is the operating temperature range. This is the range that the tubing can operate within while maintaining its flexibility and other general protective properties.
There are a lot of different design requirements to keep in mind when choosing the right heat shrink tubing. Hopefully, this list will help you simplify your selection process, so you can spend less time staring at data sheets, and more time building your products.