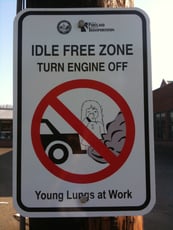 Anti-idling laws are a rapidly growing trend in fleet regulation. Numerous states and municipalities have passed laws prohibiting most types of unnecessary vehicle idling. The types of vehicles included by law vary by jurisdiction; some states and municipalities only regulate heavy duty vehicles of over 14,000 lbs, some restrict all diesel vehicles, while some laws include ALL motor vehicles.
While the stringency and enforcement of these laws vary by jurisdiction, they are not to be taken lightly. For example, idling for more than 5 minutes can land a truck operator with a fine of up to $15,000 in New York or $25,000 in Virginia! Fortunately, these laws are not without exceptions - i.e. loading, repairs, extreme temperatures, etc. For a handy guide to laws in each state/municipality, see the American Transportation Research Institute's Compendium of Idling Regulations.
In addition to government regulations, fuel savings also discourage fleets from idling. According to the Colorado Department of Transportation, idling trucks waste an estimated 1 billion gallons of fuel every year in the U.S., costing the trucking industry around $4 billion annually, as of 2012. Although many of us were raised to believe that restarting a vehicle uses more fuel than idling, since the widespread adoption of electric ignitions the opposite is now true.
While there are many clear benefits to the reduction of idling, it is not also without its issues. Truck operators need to maintain comfortable temperatures when waiting and sleeping inside their trucks, and many trucks require refrigeration for the goods inside, for example.
So then, the need to provide power to commercial trucks, without idling the engine, has created a wide market for idle-reduction technology such as generator sets, battery air conditioners, electrified parking spaces and auxiliary power units (APUs).
According to the United States Environmental Protection Agency (EPA), some idle reduction devices are even exempt from federal excise taxes, when purchased with a new truck. To find a list of qualified devices, see the EPA's SmartWay Technology program webpage.
Waytek is proud to serve several of the companies on this list with key components such as battery cable, disconnect switches, and battery isolators. Here are a few of our top product picks in each category:
Fits standard master disconnect mounting pattern

Protects vehicles and equipment against tampering, theft and battery drain

Protects from hazards during servicing, and can be locked-out or tagged-out

Provides an effective emergency power cut-off
High extreme flexible duplex battery cable for a variety of applications such as lift gates, spreaders and any application requiring power to a remote area
Flexible stranding in cold and warm weather (221°F (105°C) to -50°F (-46°C).
Ideal for booster cable construction, use with battery clamps
Smart battery isolators are smaller, lighter and generate less heat than standard battery isolators

Allows bi-directional charging from alternator or from shore/campground charging components

Optional start assist - connect to a momentary switch that will allow the auxiliary battery to assist the starting battery

Operating Temperature:

185°F (85°C) to -40°F (-40°C)

IP66 Ingress Protection
Visit waytekwire.com to explore our full selection of disconnect switches, battery cable and battery isolators. To learn more about how we are Wired To Serve™ makers of idle-reduction technology, contact us.