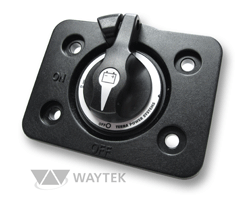 Battery Disconnect switches have several important jobs in commecrial vehicles and equipment. They cut-off electrical power, help protect against electrical fires and theft when equipment is not in use, provide a reliable shutdown of power during maintenance, and protect batteries from excessive drain. Waytek carries a new line of Terra Power Products Battery Disconnect Switches to perform these jobs and help increase the life of your batteries.
Master disconnect switches isolate high current DC circuits from battery sources and are capable of carrying 300 amp continuous current. Ignition protected to SAE J1171 and ISO 8846 for operation in hazardous atmospheric environments in battery box or on vehicles carrying hazardous loads.
Waytek offers three case design options in surface mount, panel mount or floor padding trim mount. Many features on the master disconnect switches were designed for harsh environments, including tin-plated copper studs to provide maximum conductivity, stainless steel hardware for corrosion resistance and IP67 rated housing for moisture and dust protection.