UL 1426 is a common requirement for marine wire and cable applications. It was established as a standard to ensure proper wire and cable is used to withstand high heat, moisture and corrosion in marine environments. The standard is set for single-conductor wire and multi-conductor cable.

UL listed 1426, single-conductor tinned marine wire is designed with special electro-tinned copper strands for protection against corrosion and high flexibility of easy routing through marine applications. Tinned copper is also easier to solder than bare copper. Insulated with PVC material, marine wire is flame retardant and highly resistant to water, oil, grease, gasoline and other damaging solvents. High voltage tolerance of up to 600 volts adds to versatility to its use in multiple marine applications. Also ideal for use in recreation vehicles, automotive, trucks and trailers, or any application subject to harsh environments. Rated 221°F (105°C) dry and 167°F (75°C) wet. meets DOT and Coast Guard specs for electrical systems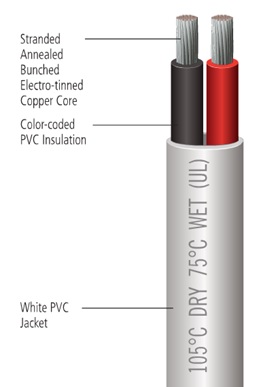 Multi-Conductor UL 1426 marine cable is similar to single-conductor marine wire, but it comes in 2 or 3 electro-tinned conductors with color coded PVC, and an additional white PVC jacket around the conductors. It offers superior protection against moisture and corrosion in marine environments. Rated for 600 volts with a high temperature tolerance of 221°F (105°C) dry and 167°F (75°C) wet. Both single-conductor and multi-conductor marine wire meet DOT and Coast Guard specifications.