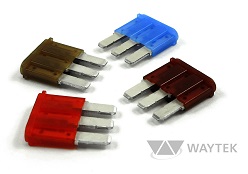 Automotive, truck and mobile equipment design engineers are under pressure to reduce system costs, improving fuel efficiency all while maintaining the reliability of electrical systems. Waytek is committed to stocking electrical solutions and circuit protection products that help engineers meet their their space and weight saving goals.
The MICRO3™ fuse series designed by Littelfuse is the latest space-saving solution now in stock at Waytek. These sub-miniature fuses have 3 terminals and 2 fuse elements with a common center terminal designed for more circuits to be protected while utilizing less space, making it an ideal solution for space-constrained electrical systems.
Similar to its single-fuse counterpart, the MICRO2™, the MICRO3™ fuse is designed to perform in a wide range of operating temperatures from -40°C to over 125°C. With a tighter overload tolerance than industry standards (120 sec max @ 135% Ir), the MICRO3™ enables customers to further optimize their wiring systems.
"The Micro3 fuse allows more fuses to be packaged into a smaller area, thus reducing system costs and helping to solve space constraint issues," said Julio Urrea, Director of Product Management-Advanced Engineering for the Littelfuse Automotive Business Unit.