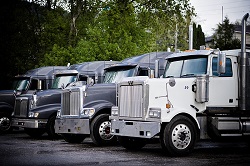 As fuel prices continue to rise, so does the pressure to make fleets and equipment more efficient. The electrical components industry is delivering more innovative solutions that contribute to smaller, lighter and more efficient, trucks, trailers and equipment.
Mini fuses, for instance, now come in a low profile style with the same footprint and current ratings as standard mini fuses, but lower overall height and weight. ATO/ATC standard fuses are now offered in a smaller Micro2 version with a sub-miniature body design, but the same ATO/ATC blade footprint.

MIDI Fuses are the space saving version of AMG/MEGA bolt down fuses. They offer the same high current ratings as AMG, in nearly half the size.
Connect MIDI fuses with the new in-line MIDI fuse holder. Install it directly in line with battery cable, no mounting required. It can be used with heat shrink tubing for applications requiring more splash resistance. Its high temperature range from -40°F to 257°F makes it resistant to under-hood and extreme cold environments.

The zinc-plated steel M5 bolt-down stud design keeps fuses in place in very high vibration applications such as heavy duty construction equipment. The curved design of the MIDI fuse holder cover aids in prevention of tube splitting during application.
For more space saving electrical solutions, call Waytek at 800.328.2724. View more fuse holders here.