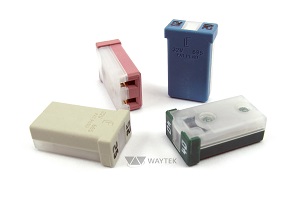 The MCASE fuse is the newest cartridge style fuses for automotive applications. Designed and patented by Littelfuse, the MCASE fuse was developed as a space and weight saving version of the JCASE cartridge style fuse.
MCASE fuses have female terminals with 2.8mm terminal footprint. The miniaturized footprint allows for optimal space usage. They are time delay fuses and can handle interrupt currents up to 1,000A. Rated for 32 volts, and currently available in four amp ratings: 20A, 25A, 30A and 40A, color coded for easy identification.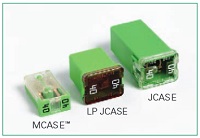 With similar rating characteristics as the JCASE fuse, but nearly half the size, MCASE fuses are an optimal space and weight savings circuit protection option for vehicle and heavy mobile equipment applications.