Adding and replacing aftermarket electrical devices and electronics can be time consuming and messy. Tangled wires, confusion of which wire connects to which device, blown fuses, Installing relays to power higher amperage applications, and the list goes on…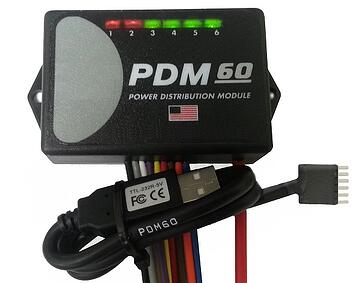 The PDM60 is a power distribution module designed to eliminate replacing blown fuses, messy electrical splices, and time-consuming testing for faulty circuits. The PDM60 connects directly to a primary 12 volt vehicle battery and efficiently powers, protects and monitors the supply of power to your electrical and electronic devices. This innovative, fully user programmable power distribution module features 6 power circuits for hassle-free connection of auxiliary and aftermarket devices like driving lights, computers and more.
Advanced technology to constantly and rigorously monitor and evaluate each of the six circuits. The unit processes the information it obtains and differentiates between typical voltage spikes, and true fault conditions. If a short or over-current situation arises, the PDM60 will immediately detect the fault. In response, the PDM60 will interrupt the power flow to that circuit, and the circuit LED will go red to alert you of the condition. To reset the circuit, you simply power the PDM60 down, and then back up again. Obviously, if the condition causing the fault is not repaired, the circuit will simply interrupt again, but you don't need a pocket full of fuses to experiment.
PDM60 features:
6 power circuits - each has a status indicator light telling the user whether the circuit is usable, already in use, or there is a fault in a circuit
60 amps max; programmable circuit limits are as follows: 3/10A, 2/15A and 1/20A
12 volts DC
IP68 rated for harsh environments
Space saving, compact size: 2" H x 3" W x 0.9" D, about the size of a business card
Posi-lock connectors for each circuit, ground trigger and ignition trigger
One lead per circuit, two trigger wires, main power and ground leads
CAN system compatible
Learn more about how the PDM60 can help you clean-up your electrical system, keep your accessories running, and eliminate time consuming maintenance.