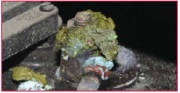 Reducing recurring electrical problems and repair costs is always on the minds of fleet owners. Electrical connectors must operate in adverse conditions like extreme heat, extreme cold, vibration, strain, snow, rain, moisture and chemicals. These conditions cause electrical connector corrosion and wires to pull-out, resulting in equipment downtime and high repair costs.
Corrosion damage is estimated at over $23.4 billion in the transportation sector. Wiring and lighting is the most frequent corrosion problem in maintaining fleets. These issues often stem from faulty electrical connections. Equipment downtime often results in hundreds to thousands of dollars in violations, repair costs and lost opportunities.

Using a high quality sealed electrical connector can protect against moisture and contaminant causing corrosion. The simplest way to prevent corrosion damage is to use heat shrink terminals and electrical wire connectors in place of non-insulated, vinyl or nylon insulated options.
Heat shrink electrical connectors are constructed with adhesive lined polyolefin heat shrink tubing to seal-out moisture. Their initial cost is a little higher than non-insulated, nylon or vinyl electrical connectors, but they offer strong environmental protection, easy installation and durability, making them an extremely valuable selection.
To see our available supply of additional heat shrinkable products, click here.