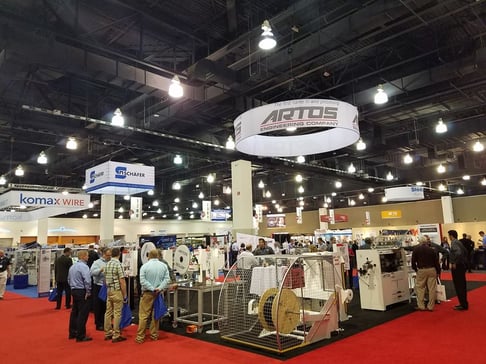 Last week, Waytek attended the National Electrical Wire Processing Technology Expo in Milwaukee, WI. As always, it was a great opportunity to network, catch some seminars and see some familiar faces. But these things are all just the "coating on the wire", because for us, the best part of attending industry events like this is catching up on the latest trends, innovations and hot topics- here are some we heard the most buzz about this year.
The biggest reoccurring theme observed was the increased automation in wire harness manufacturing. Although much of this intricate process has previously been done by hand, new advances in technology help allow the automation of more and more aspects of the process including stripping, crimping, labeling, testing and insertion. Out of these, we noticed the most focus on the wire stripping and crimping technologies this year.
Lasers are a natural choice for the tricky task of stripping the outer layers of polymers so that wires can terminate; their precision is far greater than any manual or chemical processes. One notable presence in this category was
Laser Wire Solutions
who unveiled their newest system, the
Mercury-4
laser wire stripper, eliciting excitement from attendees who remarked on it's flexibility and speed.
While there was much content presented in regards to crimping techniques and best practices, the biggest rumbling seems to revolve around the concept of ultrasonic welding replacing traditional crimping. Using
high-frequency sound waves and pressure to bond wire to terminals, this method can save time, energy and ensure greater quality assurance, as explained to me by Omar Arriaga, Service Engineer at Stapla Ultrasonics. He also highlighted the efficiency of their latest equipment, which allows a large variety of applications from one easy setup.
For operations that still do utilize crimping, another interesting innovation noticed was the use of cameras
on crimping machines. While many companies already utilize
monitors, new cameras take it a step further by taking pictures that pick up errors in real time, making the QA process more efficient. A company named Crimping & Stamping Technologies is at the forefront of this new technology.
Aside from automation, another trend noticed was the focus on some newer manufacturing standards such as IPC/WHMA A-620 and QPL (Qualified Product Listing) requirements. Both of these revolve around build specifications; A-620 is specific to wire harnesses used in any industry, while QPL

refers to the specifications different components must meet to be added to the list of approved products for use by government agencies and contractors.
While these advances and innovations are fascinating, they can be complex areas to explore, so watch for future Wired2Serve blog posts that delve deeper into these topics. And in the meantime, if you're thirsty for more of the newest, coolest innovations, check our New Products page.