The benefits of electronic controls align closely with the preferences of operators and fleet managers, as well as the OEMs and system integrators who design and build small and large vehicles. Consequently, electronic controls are increasingly used across a range of on- and off-highway vehicle applications, especially where uptime is key.
Today, there is a shift from traditional electromechanical devices to electronic Controller Area Network (CAN) technology, the most common of which is the Society of Automotive Engineers (SAE) J1939 CAN 2.0B standard for communications and diagnostics. The electronic CAN technology helps OEMs and system integrators reduce manufacturing and troubleshooting time, because of the simplification of the harness assembly, increased flexibility, and improved diagnostics capabilities. In addition, CAN technology can also improve operator feedback and overall equipment reliability, offering late-point definition capabilities, increased illumination options, and dramatic reductions in harness complexity.
Before: Total of 84 wires to controller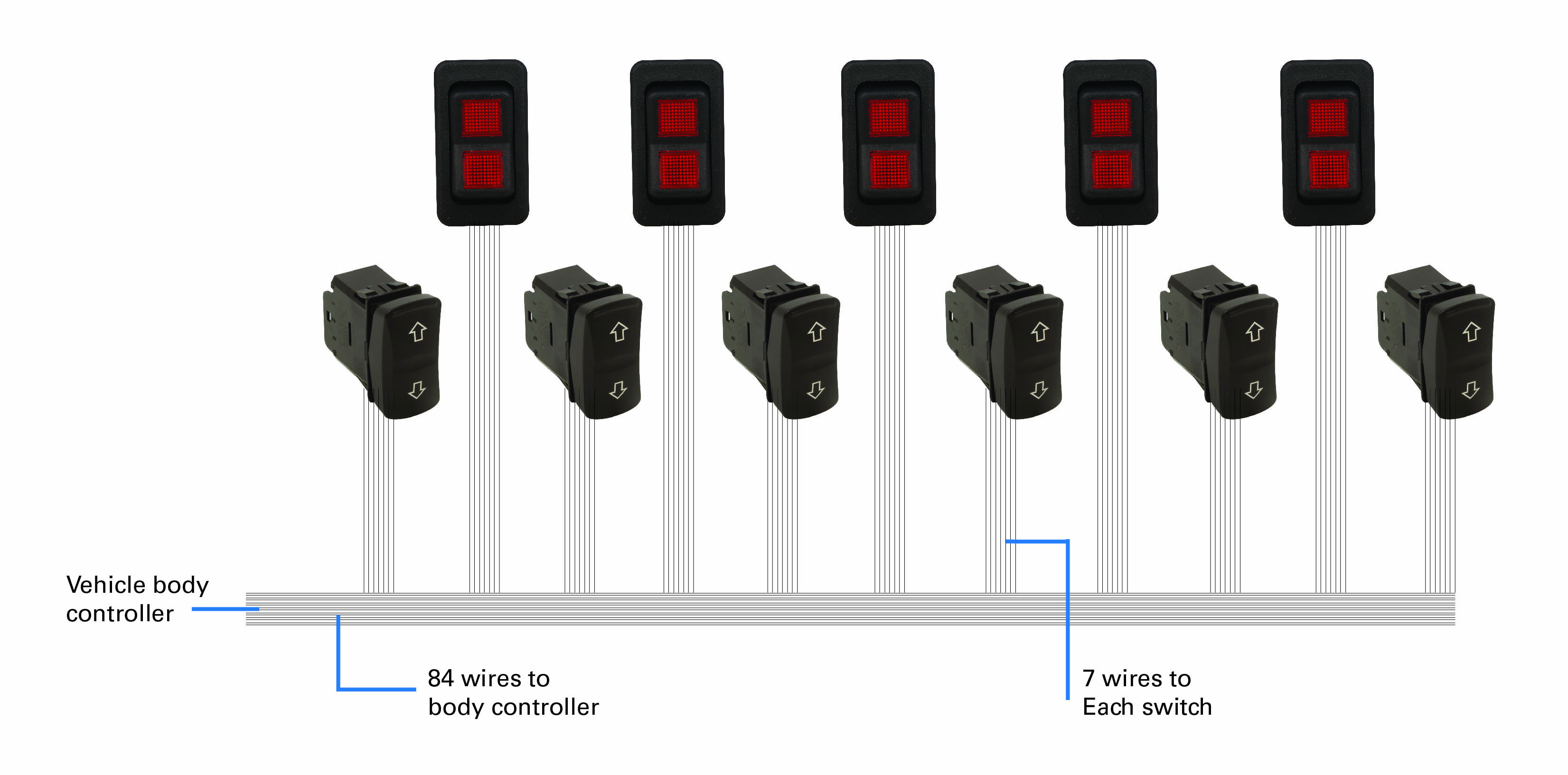 After: Total of 4 wires to controller

Electronic switch modules are engineered as an alternative to traditional electromechanical switches for use with a vehicle control network. Typically, the technology is used to accomplish one or more of the following:
Simplify system control architecture, reducing assembly time
Reduce weight and potential warranty issues
Simplify the wire harnesses
Improve operator feedback
Increase switch life-cycle performance
Shifting preferences
Electronic vehicle network technology has been around for more than a decade. So why are preferences changing now? In large part, it is because wiring (and wiring harnesses) are becoming more and more complex as control requirements continue to increase.
Yet there are space constraints behind the dash— there are only so many switches and wires that will fit. Wire harness troubleshooting is difficult at best, and accommodating proprietary messaging structures is time-intensive and costly, compared to using the J1939 standard. Further, there are only so many points of I/O on existing controllers, and all of those points can be exhausted. Adding more points of connection is costly in terms of increasing controller size.
However, there are times when the traditional technology makes more sense. Vehicles that have relatively simple control architecture, a low volume of interface products, or those that have no intention of multiplexing their platforms, may be better served using traditional electromechanical devices. Even customers who have adopted CAN technology may still employ electromechanical solutions for specific applications, such as for a "park brake," where direct control is preferred, or for accessories that get added after shipment.
By Robert Kitten
Program Sales Manager, Eaton