Police vehicles continue to evolve, utilizing a growing array of electrical equipment ranging from sirens, flashers, and spotlights to radio systems, computers, safety locking mechanisms, and more.
Police cars require more auxiliary electrical power, circuitry and wiring than typical passenger vehicles. To support the demand, police vehicles come with powerful alternators (delivering 225 amps or more) and heavy-duty auxiliary batteries.
The systems and devices that police officers depend upon must be reliably powered whether the vehicle is idling, cruising or being driven at high speed. Here are some pointers for safely distributing, connecting, and protecting the electrical power and equipment in police vehicles.
1. Use Power Relays and Contactors

Electrical relays and contactors for police vehicles must be robust enough to handle higher amperages and on/off cycles than standard relays used in passenger vehicles. A well-chosen relay can also increase the capacity of shut-down timers in police vehicles.
Picker PC775 Power Relays and Egis Power Relays stand out for their heavy load capacity, superior contacts and ability to handle high inrush current. Contactors of note include models by White-Rodgers, GIGAVAC, and Trombetta. To learn about the differences between these types of products, see How to Choose Between a Relay, Solenoid, and Contactor.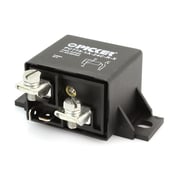 Right: A Picker PC775 Power Relay, an easy-to-install relay that meets the increased amperage and cycle requirements for police vehicle use.
2. Prevent Accidental Tripping of Circuit Breakers
Circuit breakers must sometimes be positioned in places on a police vehicle—such as under seats or in the trunk—where they could be accidentally tripped. Circuit breakers with a recessed push/trip reset button are less likely to be tripped by an item lodged under the seat or a piece of equipment tossed into the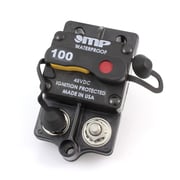 trunk.
Right: A circuit breaker with recessed push/trip reset button from Mechanical Products.
3. Save on Space and Complexity with PDMs
Because police vehicles use so many circuits and wires, space is a precious commodity. One way to minimize the electrical footprint is by using compact power distribution modules, or PDMs. PDMs promote safer vehicles and easier serviceability by adding centralized fusing to the electrical system.
Hard wired boxes (shown below) are an ideal type of PDM for police vehicles. Hard wired boxes have limited or no busing, making connection to devices via a direct connection to terminals in the wiring harness. They can be easily dovetailed to one another to handle more complex buildouts or varying fuse types. Learn more about hard wired boxes in the article Simplifying Circuit Protection and Power Distribution.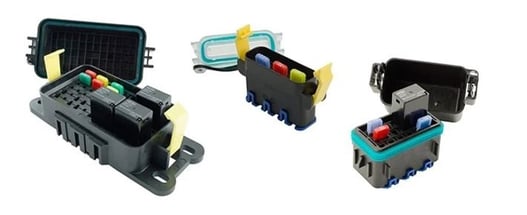 Above: Hard Wired Boxes from Littelfuse, the latest generation of power distribution modules providing advanced protection against environmental elements, a small footprint and easy installation.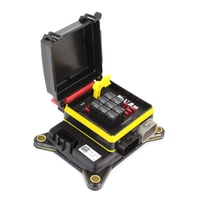 Another type of PDM is designed for managing signal communications over J1939 CAN Bus. One module can direct all the various signal communications to multiple devices around the police vehicle, saving on space and wiring complexity. A leading example of a CAN Bus PDM is the multiplexed vehicle electrical center (mVEC) from Eaton, shown at right. The mVEC can be part of a multiplexing system that eliminates the need for individual connections between switches and loads.
4. Prevent Pull-Out Damage with Self-Ejecting Battery Chargers
Auxiliary batteries in police cars typically require recharging while the vehicle is not in use. But police vehicles are also subject to being driven at a moment's notice, risking damage if the charger is still plugged in. The solution is to use modern charging systems that self-eject the power cord upon vehicle ignition or when the charging is completed.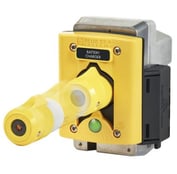 Right: A Sure Eject™ Charging System from Blue Sea Systems, which reduces the chance of damage to equipment by self-ejecting when a police car is turned on. This system comes with an industry-leading five-year warranty.
5. Protect Exterior Cable Entry Points from the Weather
Electric cables are routed through the roof or other firewalls of police vehicles to provide power to lights, sirens and other devices operating outside the vehicle. Don't risk wire damage or water intrusion by skimping when it comes to sealing these entry points. Use a robust cable entry seal, preferably one with a heat-shrinkable body to ensure a tight seal.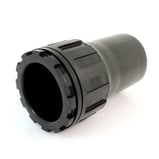 Right: A Heat Shrinkable Cable Entry Seal from TE-Raychem, featuring an easy-to-use three-part assembly: a rigid nylon nut, an O-ring, and a heat-shrinkable molded body.
6. Secure Weapon Mounts with Advanced Electronic Locks
Guns are often secured in police vehicles using locking weapon mounts next to the driver or in the rear storage compartment of the vehicle. If a vehicle is broken into, many gun lock systems can be defeated by either locating the release button or by "hot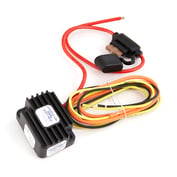 wiring" the gun lock release solenoid. Circumvent intruders by installing an advanced gun lock timer.
Right: The Advanced Gun Lock Timer with Lock-Out Protection from Egis Mobile Electric, which completely shuts off electric power to the gun release solenoid, preventing intruders from activating or hot wiring it.
Other Helpful Components for Police Vehicles
There are many other helpful electrical products to consider for use in police vehicles, including: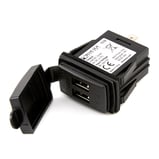 USB ports for modern laptops and phones: The latest 2.4-amp and higher USB ports can be used with latest generation of laptops and phones and are easily dropped into docking stations used in police cars.
Spotlights from Unity: These post-mount spotlights (below) are industry leaders for use in police vehicles, featuring high-impact housing, LED technology, and up to 50,000 hours of lamp life.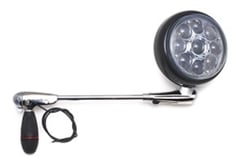 Self-Adjusting Wire Stripper & Cutter: This versatile, easy-to-use wire stripping tool from Waytek provides a very clean cut and is widely used by police vehicle upfitters.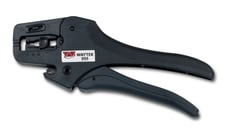 Battery Lugs and Solderless Terminals from Molex: Made in the U.S.A., these high-quality lugs and terminals offer a flared barrel design for easy wire entry.
Below: A Molex bare copper battery cable lug and a Molex Perma-Seal solderless terminal.
Expandable braided sleeving: Flexo®Clean Cut Sleeving from Techflex (shown at right) can be cut with

normal scissors without the cut end unravelling. It can also be used with a hot knife to produce a virtually frayless end.
Automotive Electrical Tapes: Professional-grade automotive tapes such as 3M Super 33+ Vinyl Electrical Tape and tesa PET Fleece NVH Wire Harness Tape provide strong, long-lasting, residue-free adhesion for use in wrapping wiring in police vehicles.
For more information about these products and other electrical components for use in police, emergency, and other specialized vehicles, visit www.waytekwire.com.