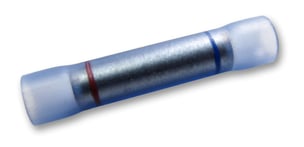 Splice connectors, most commonly known as butt connectors, but also butt splices and crimp connectors, are a fundamentally important component in 12-volt electrical systems. Here are some basics you'll need to know about them.

What Is A Butt Connector?
At its most basic, a butt splice is a fast, effective way of connecting the ends of two wires without soldering them. While soldering has some advantages, the time and cost can be prohibitive. In addition to these factors, the high heat used introduces the risk of injury. In comparison, a butt connector is simpler, faster, and arguably safer to use. Even mechanics or technicians new on the job can quickly and easily fit one end into each part of the connector and crimp.
Materials
Butt connectors come with different types of conductors, such as copper or steel, as well as different types of insulators, such as nylon and vinyl.
As far as conductive materials go, tin plated copper is the standard. Being highly conductive, easily crimpable, and anti-corrosive, it is a natural choice for many applications. However, some high-temperature applications may fare better with nickel-plated steel; although it is more expensive and less malleable, it can withstand the highest of temperatures.
Nylon-insulated butt connector terminals tend to be more flexible and pliable than vinyl and often fare better in cold temperatures, where vinyl can harden and even crack. Another advantage of nylon is that it usually comes in transparent or semi-transparent materials which allow easy inspection of the wire connection.
In contrast, vinyl is better suited for high- and low-humidity environments, as nylon can lose its structure and strength in these conditions. That being said, vinyl is not transparent and does not allow for easy inspection.
Barrel Construction
Another quality to consider is the seam of the connector, specifically whether it is brazed or butted.
Butted seam connectors are formed when metal is stamped, rolled, and butted to create the connector barrel. These connectors are designed for use with stranded wire and must be crimped in the proper place to avoid opening the seam.
Brazed seam connectors have a similar form to butted seam connectors, except the seam is brazed together with a solder alloy. This solid barrel provides a strong, reliable termination and enables them to be used with solid or stranded wire and crimped on any side of the barrel. Typically only non-insulated butt connectors are offered in a brazed configuration, however.
Specialty Connectors
For applications with specific needs, there are a number of specialty butt connector options available.
For motors, ovens or other high-heat applications, high-temperature butt connectors can be trusted not to melt or warp, such as this step-down butt connector by Molex, pictured right.
For rugged outdoor applications where water is an issue, there are a few options. Specialty moisture-resistant butt connectors are filled with a silicone material to help keep moisture, dust, and other debris out of the connection, like this nylon insulated model from 3M, pictured left.
Heat shrink butt connectors also offer this protection and have better strain relief properties than nylon or vinyl connectors. In heat shrink butts, the heat shrink contains a " melt liner" which, when heated, turns into a glue-like substance that seals out moisture and dust as well as providing an extremely strong adhesive to hold the wire into the connector.
Another option for rugged applications is a solder splice connector, which incorporates heatshrink and low melt solder with protection glands for a sealed connection. What's unique about these solder splices is that many of these can often be applied without crimping; simply heat to seal.
Butt splices are incredibly useful, but only if considered closely. If you know how your team uses these connectors and why, you can choose better, more effective splices for their needs. If you're ready to get the proper splice, click here to view all Waytek butt connectors.