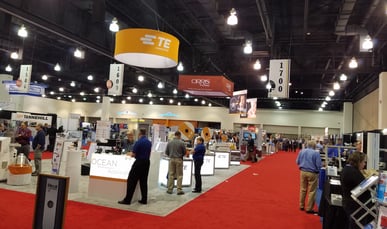 The Wire Processing Technology Expo is always a great place to see new products, and the 2016 show was no exception. When visiting our vendors, we were almost overwhelmed by sea of new parts, however there were a few that stood out from the pack.
At the Delfingen booth, we noticed much interest around the Nu-Kool T-G sleeving line. This tubular fiberglass sleeving is wrapped with reflective aluminum foil to insulate and protect wire, connectors and electrical system from engine and exhaust line heat radiation.
Rated SAE J2302, the Nu-Kool T-G sleeving withstands extreme temperatures form -40C to 200C, as well as humidity, ozone, UV and atmospheric chemicals and passes common fluids, temperature, flammability and aging tests, including FMVSS 302 flamability and ASTM E408 emissivity protections.
Waytek currently caries Nu-Kool T-G sleeving in 10mm, 13mm, 16mm and 19mm specifications.
Another notable new product featured was the ML-XT™ Sealed Connection System by Molex, who describes this new high-performance seal technology as "a cost-competitive solution offering superior reliability for critical vehicle-wiring applications in harsh environments". This is accomplished by an advanced system utilizing a two-shot LSR molded one-piece plug, and rear HCR seals with cover guards to guarantee optimum positioning. Despite this innovative design, the ML-XT™ comes in at a competitive price point, making it a serious new contender in the category.
Comparable to Deutsch connectors, the ML-XT™ line is slated for a variety of applications, including: Automotive, Agricultural, Construction and Mining, Marine, Material Handling, Military and more.
Last but not least, one real standout was the new Ratchet P Clamp by HellermannTyton (HT). This innovative new wire bundling solution features an intelligent, user-friendly design, reducing installation time and components needed.
Citing the difficulty of working with traditional P-clamps, HT created this new generation clamp to address many of these issues, offering automatic wire and bundle alignment and elevated ease of use.
What makes this product especially notable is its rugged durability. Manufactured from impact modified, heat- and UV-stabilized PA66, the Ratchet P Clamp is rated to handle shock, vibration, extreme temperatures, UV rays, chemicals and salt-water spray.
To learn more about this "disruptive innovation", watch this video of a HT representative demonstrating this new product at the Wire Processing Expo:
Now for the one million dollar question: will Waytek be adding these new parts, and if so, when? While we do carry the Nu-Kool T-G sleeving line by Delfingen, the Molex and HT products mentioned in this article are currently being reviewed by our team to determine suitability for our customer base, and whether sufficient demand is present. We would love your feedback on this - would these new products be something you are interested in purchasing- why or why not?? Please send your thoughts to blog@waytekwire.com and let us know what industry you work in, business type and job title.
In the meantime, check out our current collection of new products.