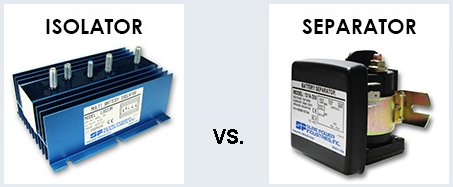 Controlling parasitic loads, aka battery drain, and properly distributing electrical power is crucial to keeping vehicles working. However, this requires balancing the needs of the battery against those of the electrical system.
The addition of electrical loads such as lights, entertainment systems, communications equipment and other accessories, continue to draw power when the engine is off. For these applications, having a multiple battery system is essential, but simply being wired into the vehicle's electrical system can allow auxiliary batteries to drain power from the main battery, inhibiting engine starting and other essential functions.
This is where battery isolators and separators come into play. But despite seeming very similar, their jobs are very different.