Waytek, Inc., a leading distributor of electrical wiring supplies, connectors, and relays for electrical systems in the mobile equipment markets, is pleased to announce the addition of GIGAVAC rugged environment products to its broad, in-stock, offering of OEM electrical components.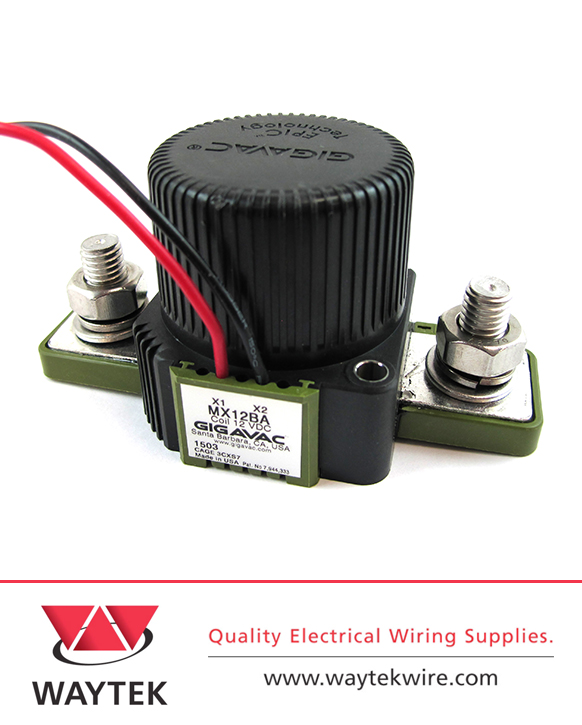 GIGAVAC manufactures advanced switching solutions including high voltage relays, contactors, manual disconnect switches and other power products. Waytek customers can now order GIGAVAC's most popular parts directly through Waytek.
GIGAVAC products are hermetically sealed—airtight and waterproof—so there is no corrosion. Parts are designed and manufactured for extreme environments (humidity, submersion, dust, high temperature, heavy shock and vibration). GIGAVAC construction allows for very long life cycles, and low warranty and service costs.
Waytek carries GIGAVAC's most popular parts including a series of chassis mount contactors up to 600A, and 300A and 500A Battery Disconnects. Each heavy-duty contactor is ceramic to metal brazed, gas filled hermetically in a sealed chamber to protect key components, exceeds IP69K standards, and is temperature tested to 200 degrees Celsius.
"We have many customers that specialize in heavy-duty commercial, military, mining, agricultural and construction equipment. Being able to provide them with airtight and waterproof equipment allows Waytek customers to source from fewer suppliers," said Jim Keister, marketing manager at Waytek, Inc.
About Waytek: Since 1970, Waytek has been providing electrical wiring supplies to OEMs in the truck body and trailer, construction machinery and equipment, mining, agricultural equipment, and emergency vehicle markets. Waytek maintains a large inventory of more than 10,000 different electrical supplies. Waytek prides itself on having the "Right Parts, In Stock, to be delivered On Time." To view GIGAVAC products, visit the Waytek website at www.waytekwire.com
About GIGAVAC: Based in Santa Barbara, California, GIGAVAC manufactures and distributes Advanced Switching Solutions. GIGAVAC's sealed switching devices include high voltage relays, contactors, manual disconnect switches and other Power Products. Used in a wide variety of applications, typical customers are manufacturers of commercial and military vehicles, as well as boats, light rail, mining, factory automation power systems, battery charging and management systems, fuel cells, solar and wind power systems, test equipment, HV power supplies, wafer fabrication, RF communications equipment, MRI/medical equipment and others in need of Advanced Switching Solutions. www.GIGAVAC.com.