Minneapolis, MN, January 2014, - Waytek, Inc., a leading distributor of electrical wiring supplies, connectors, and relays, is proud to announce the addition of Picker Components to its broad, in-stock relay offering of OEM manufacturing electrical components.
Picker Components builds a broad line of electro-mechanical and solid state relays and has become a quality leader among relay manufacturers. Picker's automotive relays use proprietary silver tin indium oxide contacts that provide superior contact performance with respect to inrush current. Picker relays are available sealed and unsealed, with and without mounting brackets and as plug-in or PCB mount configurations.
Waytek offers Picker Components' extensive line of Automotive, Power, Signal and Solid State relays, stocking the popular mobile equipment versions. Picker Components' offering includes the PC7150 family 150 amp PCB power and maxi ISO relay with two 1/4" and three 3/8" terminals. This part also brings with it a new relay connector for the 150 amp relay.
Waytek offers complete relay lines from TE/Bosch, Song Chuan, Hella and now Picker Components. "Regardless of your preferred relay, Waytek carries the most popular lines, so you can order your relays, wire, connectors, and loom from one company and have it shipped the same day," said Jim Keister, marketing manager, Waytek, Inc. "Picker Components round-out our relay inventory and allow us to offer a full family of high current, mini ISO, micro ISO BS maxi ISO relays, ISO 280 micro relays, ultra micro relays, and appropriate connector lines."
All new relays and connectors are in-stock at Waytek and ready for same day shipping for all orders placed by 4:30 pm CST Monday-Friday.
Since 1983, Picker Components has manufactured one of the broadest lines of relays in the marketplace. "We want to offer our customers a wide-selection of relay components and connectors to meet their OEM requirements," said Bob Lamoreaux, President of Waytek. "Quality manufacturers such as Picker Components help us meet these demands for our customers."
These relays have been added to more than 10,000 quality electrical wiring supplies already in-stock at Waytek's mid-west location. All products are on the shelf and ready to be picked, packed, and shipped.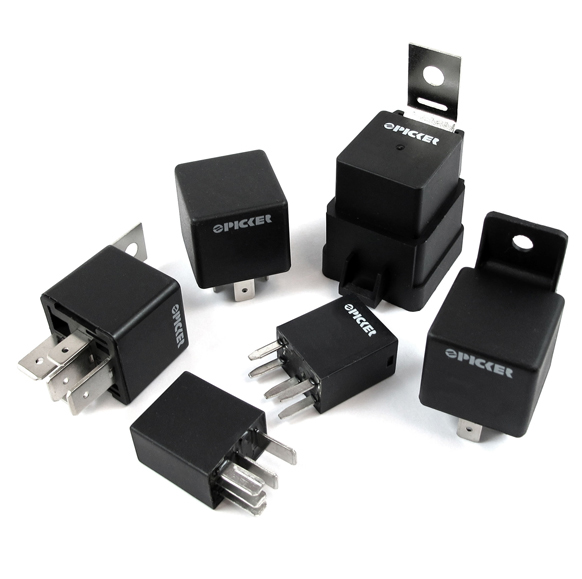 About Waytek: Since 1970, Waytek has been providing electrical wiring supplies to OEMs in the truck body & trailer, construction machinery & equipment, agricultural equipment, and emergency vehicle markets. Waytek maintains a large inventory of over 10,000 different electrical supplies. Waytek prides itself on having the "Right Parts, In Stock, and delivered On Time." To view Picker Components in Waytek's product line, go to www.waytekwire.com
About Picker Components: Since 1983, Picker Components has manufactured one of the broadest lines of electro-mechanical and solid state relays. Picker Components manufacturing facilities are ISO9001-2000 and ISO14001: 2004 certified and have been issued an ISO/TS 16949:2002 certificate by TUV SUD. Picker Components is a leader among relay suppliers. Offered at a competitive price, they provide the highest quality relays in the market.