Minneapolis, MN, February 2014, - Waytek, Inc., a leading distributor of electrical wiring supplies and connectors for the mobile equipment market, is pleased to announce the addition of their new online electronic catalog.
The catalog can be accessed and downloaded from Waytek's website or by clicking here. It offers electronic functionality to help users quickly find the products they're looking for regardless of how they prefer to search the electronic catalog.
Waytek Catalog #227 is the latest catalog in the company's 44-year history and includes more than 10,000 parts and descriptions. The electronic version of Catalog #227 offers several electronic methods of finding products, descriptions, and technical specifications that are more effective than the traditional catalogs. This efficiency allows users to access and review key information quickly for any equipment-building project.
The entire electronic Catalog #227 can be accessed from the website or download to the user's desktop for quick reference and ease of use. The download process allows users to save and access the entire catalog with a few clicks of the mouse.
Simply clicking on a desktop icon provides the user with instant access to all of the electronic catalog's features. Items in the electronic catalog are linked to the website for additional product information, current pricing, data sheets, and other products the user will need. Once on the website, orders can be placed for all your electrical supply needs.
It's easier to find products using the electronic catalog rather than a traditional hardcopy. Products can be found by flipping page-by-page, clicking on index descriptions that are linked to specific products, or users can jump to the page needed by simply entering the page number. A tile function also allows the user to see all pages on one screen and select the pages they need from there.
A features button allows users to flag and add notes to frequently used pages for ease of reference. The notes tool is a great way to add reminders for individual products on pages that are frequently used.
Our philosophy, "If it's in the catalog, it's in stock," has just taken on a whole new meaning. Check it out for yourself by visiting our website at http://www.waytekwire.com.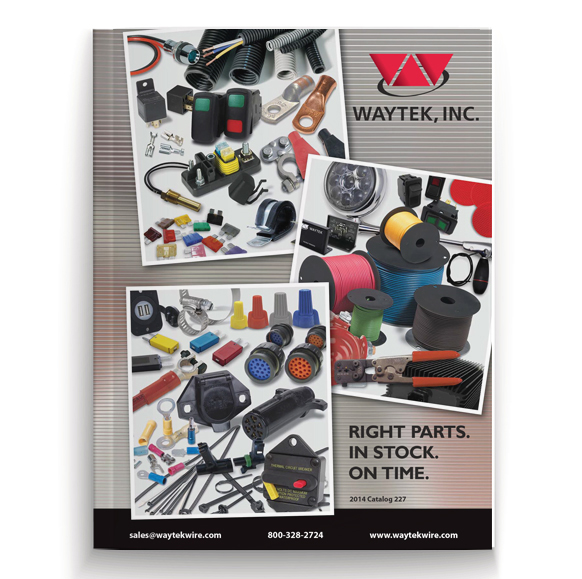 About Waytek: Since 1970, Waytek has been providing electrical wiring supplies to harness manufacturers and OEMs of truck body & trailers, emergency vehicles, construction machinery & equipment, and agricultural equipment markets. Waytek has an inventory of over 10,000 different electrical supplies.