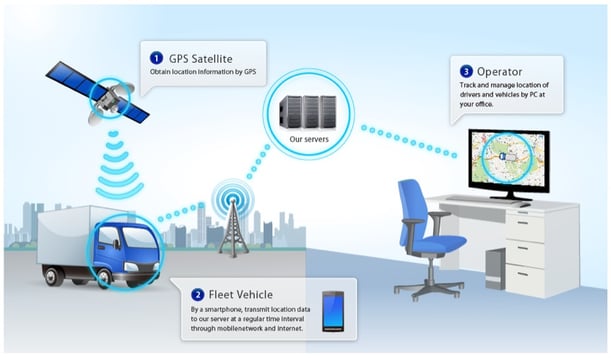 (Source: Telematicsnews.com)
What Are "Telematics"?
Fleetmatics.com defines Telematics as "any integrated use of telecommunications with information and communications technology. It is the technology of sending, receiving and storing information relating to remote objects – like vehicles – via telecommunication devices". This is often achieved through a combination of a GPS receiver and an electronic GSM device that use software to communicate vehicle data to another location.
So what information can telematics technology track and relay? According to Telematics.com, here are some of the most common types of data tracked by fleets:
Driving Patterns – These can be tracked to ensure that each driver is driving to optimum standards and fuel efficiency. It will also expose dangerous or careless drivers.
Traffic And Congestion – By becoming aware of traffic delays and congestion, fleet controllers can give updates on delays to customers and maintain deadlines.
Geofencing – This can make sure that fleet drivers keep to selected areas and routes which are chosen for their efficiency. If a driver veers off from the route, the fleet controller will be alerted and can contact the driver.
CO2 Emissions – These can be monitored to ensure they comply with governmental standards.
Servicing and Maintenance – You can plan your servicing and general upkeep of fleet vehicles by having specific data as to their exact mileage and usage.
Telematics Mapping – this allows you to replay a drivers movements and driving as if you were the driver, noting speed, braking and idling habits.
Benefits of Fleet Telematics
Fleets' desire for increased efficiency has fueled advances in telematics technology. Some of the most common objectives cited for its use include:

•Increased Productivity
•Reduced Fuel Costs
•Improved Customer Service
•Increased Fleet Safety & Security
•Reduced Operating Expenses
•Preventing Unauthorized Vehicle Use