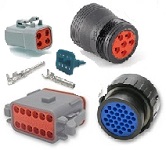 Deutsch connectors are in high demand and can be difficult to source due to manufacturer lead times. You see Deutsch connectors everywhere on trucks, construction equipment, Ag equipment, almost any piece of mobile equipment. However, you can't afford to slow your equipment production to wait for a connector lead time. Waytek has partnered with Amphenol, Delphi and Molex to make Deutsch compatible connectors in stock, ready to ship as soon as your order is placed. Amphenol, Delphi and Molex have spent countless hours testing and perfecting the Deutsch compatible connector lines to make them a reliable replacement.
Deutsch DT Compatible - Amphenol AT Connectors: A high performance, cost effective system with wedge locks, durable thermoplastic housings and nickel plated contacts to ensure reliable electrical connections, and withstand harsh environments.
Deutsch HDP Compatible - Molex XRC Connectors: Extra rugged circular connectors are IP67 sealed for protection against dust and water. Their reverse terminal genders allow for custom polarization, and the housing construction with a collar offers easy gripping and efficient installation for decreased labor time and costs.
Deutsch HD Compatible - Amphenol AHD Connectors: Offered in either a smooth Diagnostic Grade housing for non-sealed controlled applications, or Military Style housing with a silicone elastomer seal and threaded constructions for protection against environmental ingress.
Deutsch HDP Compatible - Delphi HES Connectors: Harsh environment series connectors with a rugged construction and IP67 rating. They provide a high current capability, improved sealing, and higher terminal retention with significant cost advantage compared to standard pin-and-sleeve systems.