Abstract
Electrification of heavy-duty equipment is on the rise, and Waytek's first-hand research shows companies are interested in exploring how this new trend can supplement their current business models. The benefits of electric systems are clear, but factors such as cost, battery technology and infrastructure play a role in how companies research and adopt their own electric solutions. As OEMs, engineers and designers continue to work through these hurdles and advance battery technology, electrification is poised for growth in off-highway equipment in coming years.
Overview of Electrification in Off-Road Equipment
Pursuing electric heavy-duty equipment promises long-term cost savings because of less maintenance, fewer moving parts and of course, less fuel consumption. Given these benefits, companies are at various stages of exploring how electric solutions could fit into their businesses.

Waytek and OEM Off-Highway partnered to conduct a survey that received 315 responses and set a baseline for industry members' opinions and the actions their companies are taking so far to explore electrification.

So, what can manufacturers, buyers and distributors expect over the next decade?

After conducting this survey, it's clear that the trend of electric heavy-duty equipment is in full swing. Although responses vary on whether electrification is here to stay, it's apparent that the future is looking more electric every year.

The majority of industry members recognize and agree on the benefits of electrification of heavy-duty equipment. Factors such as long-term cost savings for equipment owners; reduction in routine maintenance; and fewer greenhouse gas emissions lead the way for the driving forces behind increasing research and implementation.

Even though electrification is on the rise, fewer than half of respondents say their companies have taken concrete steps to incorporate new technologies.

The reality is there are monumental hurdles preventing advancements in electrification, including the cost of implementation, battery technology, charging infrastructure and the willingness of the industry to change.

Despite these hurdles, survey respondents indicated confidence in the growth of electrification, making the need to address limitations top of mind for researchers.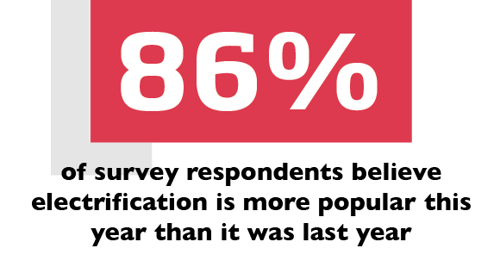 See figure 1 for full data
Factors Pushing Electrification of Heavy-Duty Equipment Forward
Survey respondents are optimistic about the future of off-highway electric equipment, as seen by the majority of responses indicating they felt electrification is more popular this year than last year. By and large, respondents agreed electric systems have unique advantages. Let's take a closer look: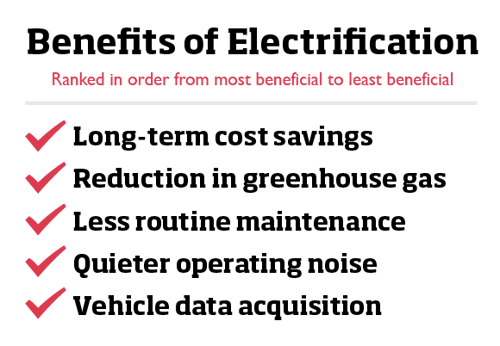 See figure 2 for full data
Long-Term Cost Savings
Perhaps the most obvious benefit is cost savings on fuel. Owners can expect about a 50 percent savings on energy expenses when switching from fuel to electric.1 Although, calculating the exact savings proves to be a complex process since each industry, company and piece of equipment affects the bottom line differently.
Reduction in Greenhouse Gas Emissions
The potential for electrification to reduce greenhouse gas emissions continues to be a driving force advancing cleaner technologies. According to the World Resources Institute, major sources of emissions include transportation, agriculture, mining and residential and commercial construction.2 The US Environmental Protection Agency has established increasingly strict regulations on standards for greenhouse gas emissions from all vehicles including heavy equipment like nonroad diesel engines.3 With the trend toward greener technologies showing no end in sight, electric-powered equipment is in a prime position to take off in coming years.
Less Routine Maintenance
Owners will also save money and time on maintenance and repairs since the systems in electric vehicles are far less complex than their combustion engine counterparts. Routine upkeep such as oil changes become obsolete when working with electric systems.
Quieter Operating Noise
Quieter operation is a major benefit of battery powered construction equipment, especially in metropolitan areas where ordinances govern construction times and decibel levels.
Vehicle Data Acquisition
When electric systems are utilized, fleet managers can identify potential problems before they happen, ultimately reducing downtime for electric commercial vehicles and optimizing fleet performance.
While benefits of electric systems are clear, responses to the survey showed lingering skepticism over whether it's here to stay or a passing fad. Is it possible the limitations are too big of a hurdle to overcome?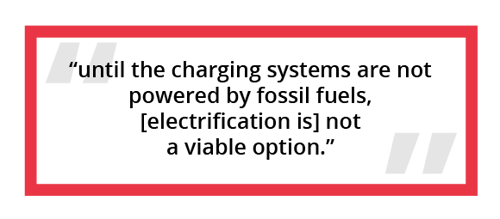 Limitations to Adoption of Electric-Powered Equipment
Electrification in off-highway equipment faces tangible limitations such as battery storage and charging issues, as well as intangible limitations such as the willingness of the industry to change and companies seeing electrification as a value add, meaning it goes beyond the standard of customer expectations and is not necessary for their business.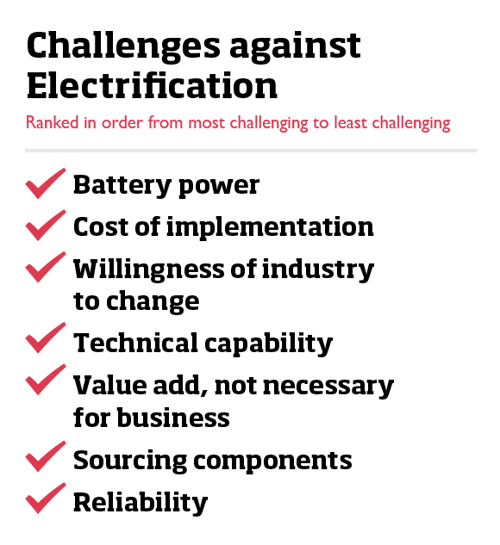 See figure 3 for full data
Battery technology consistently ranked as the primary challenge against electrification both statistically and anecdotally. Technology has advanced in recent years, but it still has a long way to go. Five years ago, the concept of battery-powered tractors on farms was a futuristic idea, but today companies such as Fendt and John Deere are making it a reality by testing prototypes and improving performance.5
For electric equipment to supplement fuel-powered equipment, advancements in battery technology must focus on:

1) Timely recharging
2) Duration of continuous operation
3) Battery size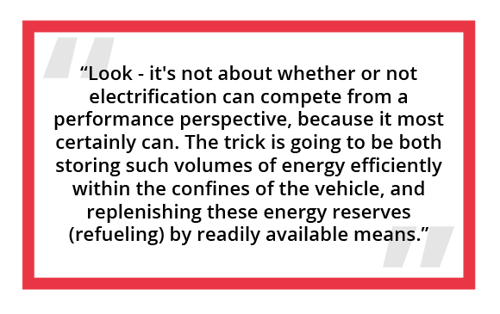 The issue of battery technology is further complicated because of an insufficient charging infrastructure, especially in rural areas. A reliable charging system is essential for electrification to achieve widespread growth.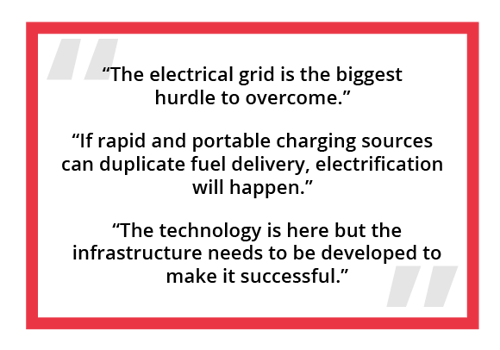 Overall, respondents indicated electrification would be more successful in metropolitan areas than in rural areas given the current electrical grid.
Responses also indicated that electrification has the greatest potential for success if we recognize its applications for specific industries and equipment, rather than assuming it will be beneficial for all situations.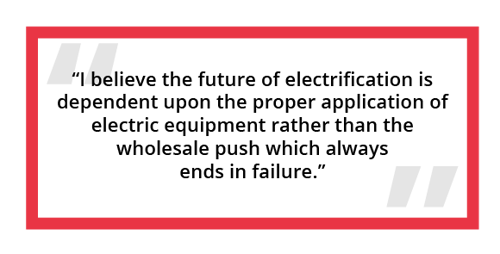 As the demand for electric vehicle batteries increases, the need for natural resources to develop those batteries increases, thus raising the question of how to continue extracting natural resources as their scarcity prevails.

The fundamental factor in successful mass production and disposal of batteries will be the continued availability of those resources.

Although the limitations are apparent, many companies are taking small steps to learn about electric systems.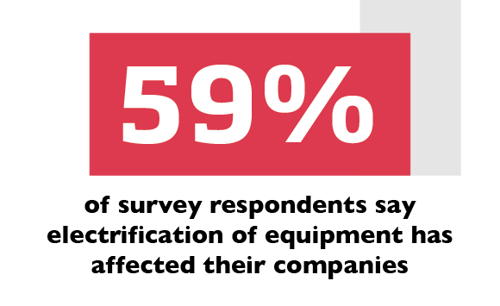 What Are Companies Doing to Pursue Electric Heavy-Duty Equipment?
The majority of respondents say the trend of electrification has already affected their companies, and they are likely to see how it could complement their businesses within the next 12 months.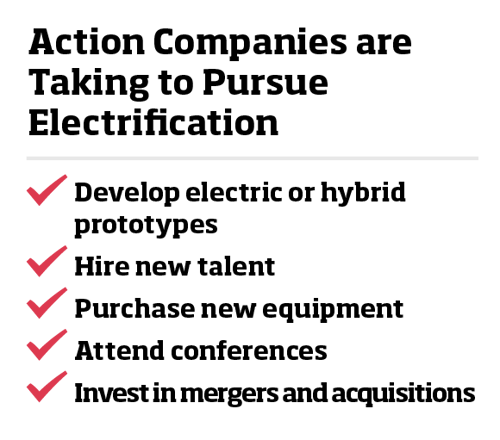 But could electric systems ever be the primary power source for heavy-duty equipment? The answer is it's too soon to tell.
Electric equipment shows promise to supplement fuel-powered equipment for most companies, so it's clear that electrification is here for the long haul.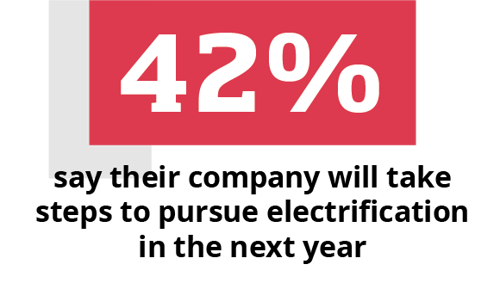 See figure 6 for full data
The steps companies are taking to pursue electrification range from watching the trends and conducting research to acquiring new companies and developing electric prototypes. No matter where companies fall on this scale, it's important to stay informed and keep an eye on competitors.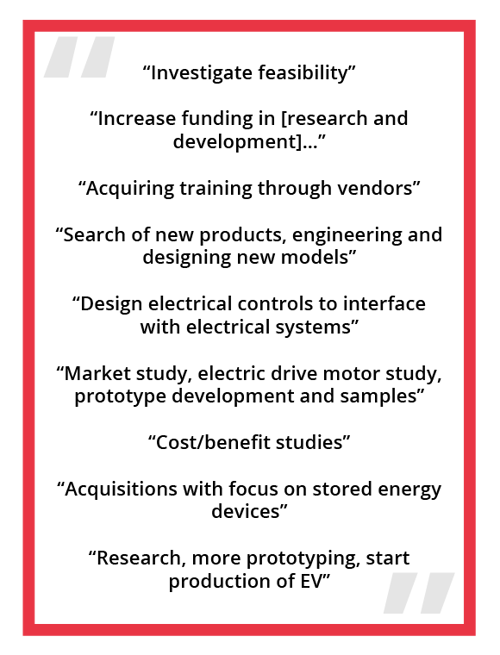 Survey responses also showed more potential for electrification to grow in certain industries than others: electric commercial vehicles such as trucks, buses, or municipal transportation earned the top ranking for potential growth in electrification, whereas, agriculture, military and forestry took the bottom three places.

Given the reality of limitations against electrification, most survey respondents indicated a slower pace of incorporating electric-powered equipment into their industries. Of the respondents who believed electric systems will eventually become more prominent than fuel systems, the majority of responses said it will take 10 to 30 years before electrification becomes more popular.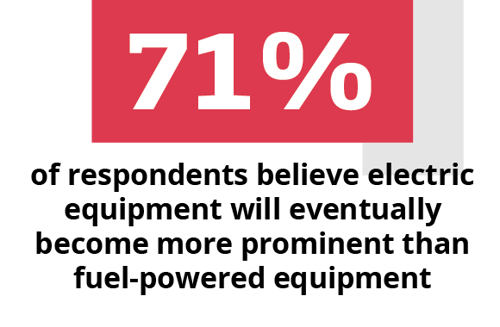 Predictions for the Future of Electrification in Off-Highway Equipment
After conducting this study, it's apparent that companies are only seeing the tip of the iceberg when it comes to electrification of heavy-duty equipment.
Batteries
The last ten years have brought considerable advancements in battery size, power storage and charging time. But to enhance the benefits of electrification, engineers and designers need to look at more than just energy storage and charging time. Advancing battery technology also means setting up an infrastructure equipped to handle mass manufacturing, disposing and charging in a cost-effective and reliable way.
Cost
Results from the survey showed the cost of researching off-highway electric vehicles and implementing electric-powered systems is the primary deterrent of electrification. As electrification increases in popularity, the cost of implementation will decrease, making it more manageable for companies to investigate electric options for their business. With a lower cost to explore electric solutions, companies will be more open to devoting resources to see how electric systems could play a role in their businesses.
Industries
Electrification will unfold with growth in select applications, such as small and mid-size equipment; growth in specific industries such as transportation and construction; and growth in certain locations such as metropolitan areas.
Small Steps
Companies will continue taking incremental steps to explore how electrification could complement their current equipment in specific situations. Leadership will proceed cautiously by having internal discussions, conducting research, hiring consultants, training current staff and investigating hybrids before pursuing fully electric systems.

Overall, companies will need to examine whether electrification is a fit for their individual businesses. Companies should monitor trends and competitors to understand how their own business might incorporate electrification in the future.

Given the complexity of research and implementation, it's best to proactively explore how electrification could unfold for specific applications.